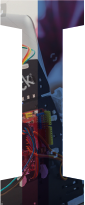 Today, professional growth means more than 'keeping up' with the times – it means staying one step ahead. With technology, your organisation will grow by leaps. But this includes more than just installing state-of-art technology. Add employee training to the list, and you would have revolutionised how your enterprise runs.
With a special focus on Oil & Gas or Utilities Manufacturing companies, EdNex audits and understands your employee's training needs and helps execute them in your professional space. With the help of Blended Learning – a mix of face-to-face training and online tools – your employees will have acquired key skill sets with the help of our structured curriculum and blended learning techniques. We understand different industry experience begets different training.
For the beginners in your firm, we offer 'Skill Training' intended to bridge the gap created by the lack of hands-on training at universities. Although academically bright, they lack training in the relevant skill base and real-world experience.
Growth comes from adapting to change. We offer your more experienced employees an opportunity to familiarise with the latest trends and hands-on training with the latest technologies in our Skill Upgradation program.
Our years of experience have helped us understand and design solutions for a variety of organisations. Rest assured, EdNex will help find and integrate solutions that are just right for you! With our Skill Certification, you can be rest assured your enterprise is equipped to run smoothly and at its optimum.