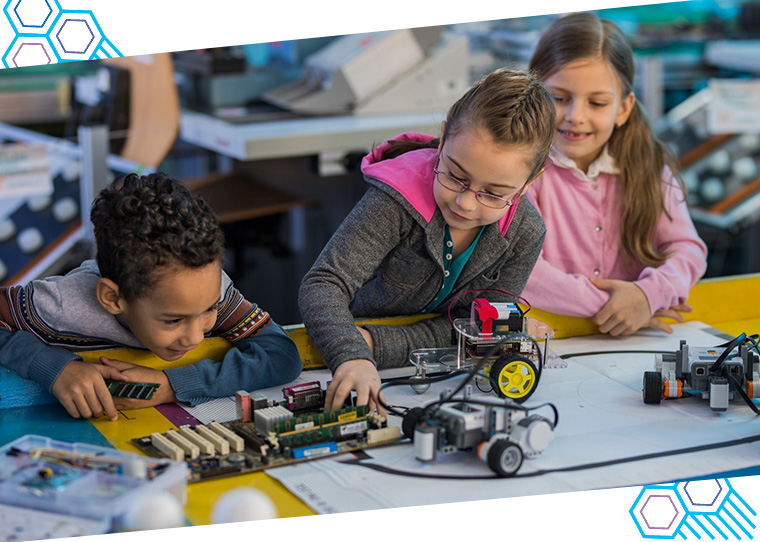 Arduino Boards
Arduino is open-source hardware, software, and content platform. It aims to build a global community of active learners and creators.  EdNex provides fully integrated Arduino boards, sensors, and kits customized to your needs. Whether you're a teacher trying to become familiar with electronics or a school administrator who want to introduce physical computing and computational thinking to your school curriculum, we have an Arduino board that's perfect for you.
EdNex offers Arduino Board solutions for the classroom with learning paths for individual and collaborative educational approaches. They are perfect for designing and teaching innovative programs for cross-curriculum studies.
The Middle and High school-level Arduino kits include innovative, open-source boards such as ARDUINO UNO (X6) and ARDUINO 101 (X6) boards. They empower your students to learn the fundamentals of programming and electronics in a fun and engaging manner. Introduction to sensors and actuators help build their critical thinking, collaborative learning, and problem-solving skills.
Arduino Uno
Arduino uno is the standard Arduino board. It's ideal for easy, hands-on projects to get your students get started with electronics. This Arduino Board Toolbox includes:
USB STANDARD TYPE B
CLOCK 16MHZ
MEMORY 32 KB FLASH 2 KB SRAM 1 KB EEPROM
CHIP ATMEGA328P
INTERFACES 12C SPI SERIAL
VOLTAGES 5V OPERATING
PINOUT 14 DIGITAL 6 PWM 6 ANALOG
DIMENSIONS6 X 53.4 MM
Arduino Mega
Don't limit your projects, think big, think MEGA! Give life to bigger and more ambitious projects with the Arduino Mega 2560 Board. The toolbox includes:
USB STANDARD TYPE B
CLOCK 16MHZ
MEMORY 32 KB FLASH 2 KB SRAM 4 KB EEPROM
CHIP ATMEGA2560
INTERFACES USB SPI I2C UART
VOLTAGES 7-12V INPUT 5V OPERATING
PINOUT 70 DIGITAL 15 PWM 16 ANALOG
DIMENSIONS52 X 53.3 MM
Arduino Due
Based on Microchip SAM3X8E, Arduino Due is a microcontroller board with an Arm Contex-M3 processor. It was the first Arduino board based on a 32-bit Arm microcontroller and its toolbox includes:
USB MICRO TYPE B
CHIP AT91SAM3X8E
CLOCK 80MHZ
MEMORY 512 KB FLASH 100 KB SRAM
INTERFACES USB SPI I2C CAN UART
VOLTAGES 7-20V INPUT 3.3V OPERATING
PINOUT 70 DIGITAL 12 PWM 12/2 ANALOG
DIMENSIONS52 X 53.3 mm
Arduino Nano
We provide clients with the Arduino Nano- a small, complete, and breadboard-friendly Arduino board. It shares the same functionality as an Arduino Duemilanove while it provides the same connectivity and specs of a small form factor UNO board. An Arduino Nano works with a Mini-B USB cable instead of the standard cable and the toolkit does not include a DC power jack.
Read more about our solutions: